Chasing Flies, a short story audio work for Clouds and Tracks Audio Circular weekly transfers, goes live on 03.08.21. Listen up here
Bad Ideas Collective is an ongoing online project that gives exposure to art works that haven't been realised due to creative doubt or other personal misgivings, introducing audiences to the internal discourse and decision-making involved in the creative process. Artists produce short videos that reflect on projects which they held back from developing for reasons other than purely practical obstacles – for example either because of perceived inadequacies in the concept, or due to speculation over audience responses.
Fully Awake 5.6 at Freelands Foundation, 6 September – 3 November 2019: curated by Ian Hartshorne and Sean Kaye, Teaching Painting: Fully Awake 5.6 is an exhibition that explores new ways to understand the development and variety of contemporary British painting. It offers an accessible but critically rigorous platform for audiences to better understand the impact that different generations of artists have upon one another. The exhibition embraces an intergenerational approach to celebrating the practice and teaching of painting, by including artists from a broad range of backgrounds and styles.
Against Doom Too collaborative project with Macon Reed at Five Years, London, opening 6-9pm, Thursday 17th November for Artlicks weekend 2019.
Hunger an evening of artist video screenings for 5yrsly Video at Five Years, London, 2nd March 2019. For a full line up of screening events see the Five Years website.
March I am showing Safe Trip a new text, accompanying the online exhibition Closed For Season by Mark Beldan, for Skelf virtual project space.
Verdigris Celeste, will be showing in Art as Information at The Delaware Contemporary, USA, November 20, 2017 — January 26, 2018.
I will be showing a new short video as part of Skelf: Art Feast, and online project for Art Licks weekend 2017. Skelf SITE is a virtual project space, accessible to anyone, everywhere, find out more – www.skelf.org.uk/
Stoneleaf Retreat artist residency in the Catskills, NY, with artists Leah Dixon and Macon Reed, culminating in Stoneleaf Summer Fete and exhibition on Saturday, September 2, 2017.
Wide Open Studios: The Klamath, residency with Signal Fire, Oregon, USA, June 17
Wassaic Artist Residency, Wassaic, NY, USA, July 17
March 2017. Annihilation Event a 6 day programme in the Lethaby Gallery, London, that will bring together a contrary group of artists, archivists, archaeologists, historians, technical experts and theorists from all over Europe. The scheduled events will operate as an experiment, an exchange, a chance to inhabit the Lethaby with a constellation of objects, machines, speculative processes and performances, an unprecedented opportunity for collisions and collusions. annihilationevent.com
July 2016 I've just arrived in Iceland and in a couple of days will be joining UK-OSNAP team on a 3 week research cruise on the RRS Discovery. UK-OSNAP are part of an international collaboration working to establish a transoceanic observing system in the subpolar North Atlantic to help better understand ocean circulation and its relation to climate change. The cruise is lead by oceanographers fom the National Oceanography Centre in Southampton and includes scientists from other international institutions. On Wednesday we will be leaving Iceland and heading towards moorings at the southern tip of Greenland, before finally returning to Southampton. You can follow the OSNAP blog here http://www.o-snap.org/news-events/blog/
Cruise blog.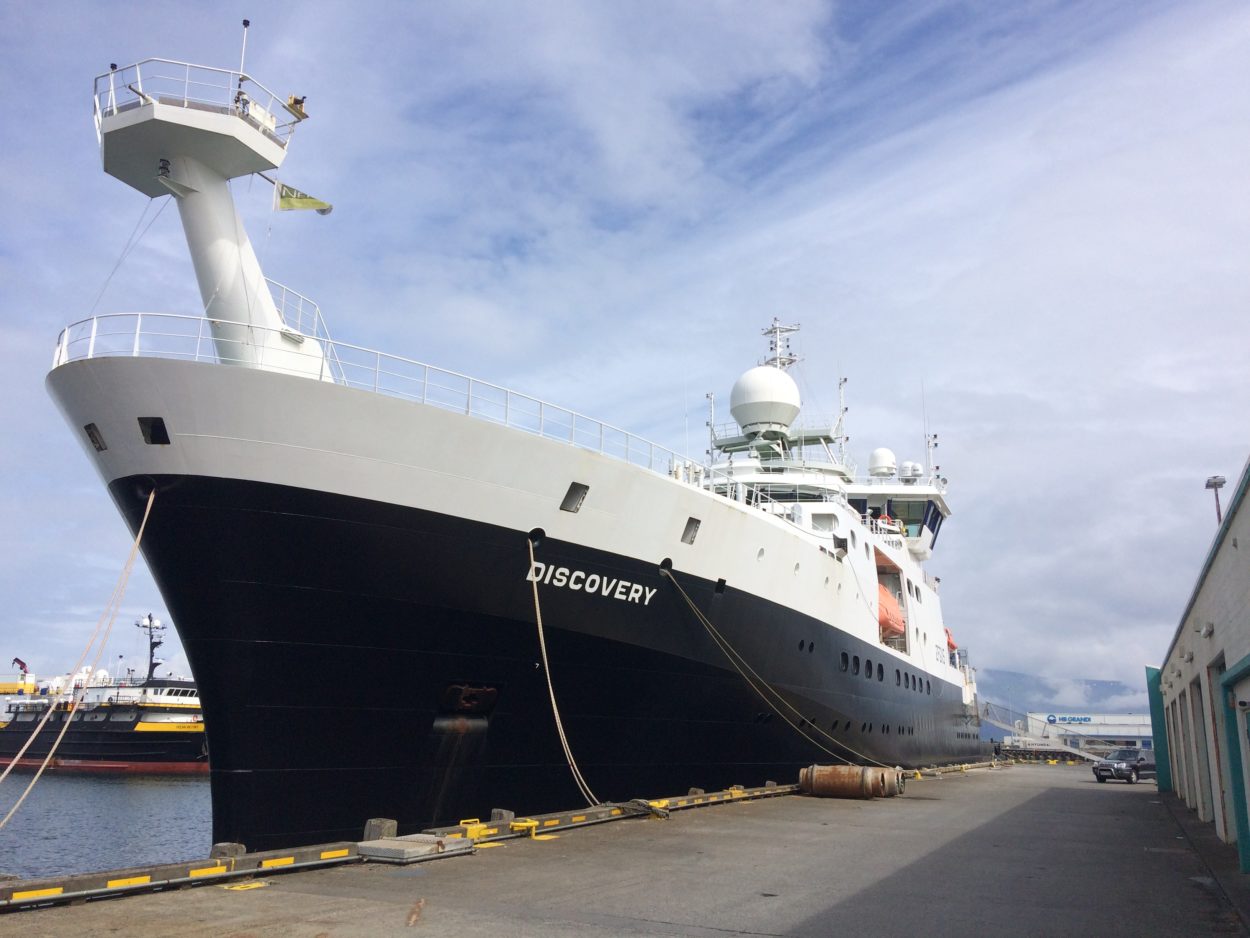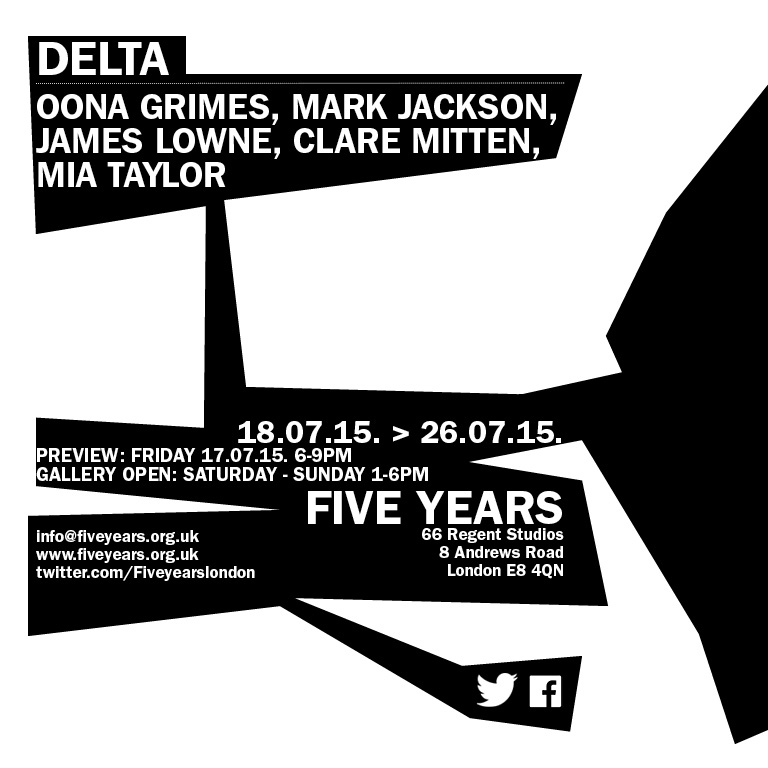 July 2015. Delta with Oona Grimes, Mark Jackson, James Lowne, Clare Mitten and myself will be opening at Five Years on Friday 17th July, 2015, 6-9, open Saturday – Sunday, 1-6.
June 2015. Freak Dancing with Heino Schmidt, James Cooper, Tessa Whitehead, Blue Curry, John Cox and Deborah Anzinger at Popop Studios, Nassau, Bahamas.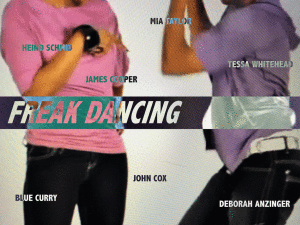 February 2015. Deep Highly Eccentric, a curatorial project at The Winchester Gallery. The exhibition explores abstraction and distance in relation to outer space and the human act of gazing upwards. With work by Kjetil Berge, Boyle Family, Michael Curran and Louisa Minkin, Ian Dawson, Mikala Dwyer, Nahoko Kudo, Tim O'Riley, Sophy Rickett, Alex Schady, Nick Stewart, Systems House, Mark Aerial Waller and myself.
www.deephighlyeccentric.org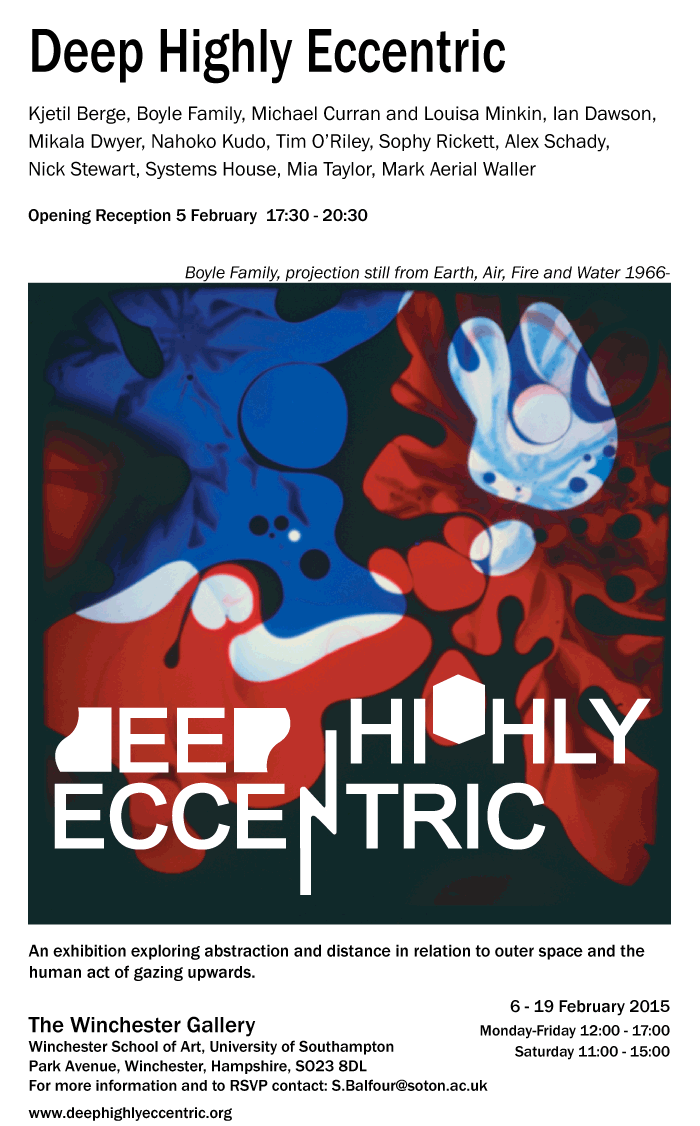 June 2014. I will be performing Strela on Sunday 29th June, 2014 at 3pm at Kjetil Berge's solo show, Worlds Apart at Five Years. Also performing will be Kristian Skylstad, Jóhanna Ellen Ríkharðsdóttir, Jason Havneraas, Peter Barnard, Lydia Heath, K+Kproject, Anne-Marie Creamer, Karen Nikgol, Alex Schady and Hadas Kadar, the schedule for these performances can be found on the Five Years website here
April – July 2014. If you're feeling able to support some great places – in NYC in April, I have a work in the Lucky Draw fundraiser at the Sculpture Center and at the RWA secret postcard auction, in Bristol in July, 2014.
February 2014: Embrace, at FORT, 34-38 Provost Street, London, N1 with work by Rob Leech, Sean Penlington, Sarah Kate Wilson and myself. www.fortgallery.co.uk
October 2013. Untitled 1: Glitch,  with  Jules Clarke/ Marcus Cope/ Marie D'Elbee/ Howard Dyke/ Michele Fletcher/ Andrew Graves/ Mathew Krishanu/ Gunner la Cour/ Cathy Lomax/ Matthew Macaulay/ Sarah Macdonald/ Stephanie Moran/ Mali Morris/ Clare Price/ Robin Seir/ Mia Taylor/ Ross Walker. Curated by Stephanie Moran and Jules Clarke.
August – September 2013. Exchange Project. PART TWO: Obscured Exchange, curated by Claire Undy at A.P.T Gallery, Deptford.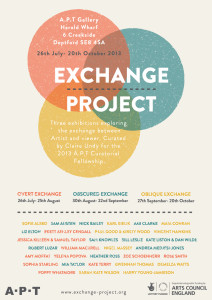 Sam Austen, Nick Bailey, Ami Clarke, Liz Elton, Sam Knowles, Bill Leslie, Kate Liston & Dan Wilde, Robert Luzar, Andrea Medjesi-Jones, Heather Ross, Mia Taylor
Review of Obscured Exchange by Sharon Mangion for an
May 2013. Creekside Open 2013, selected by Paul Noble

A.P.T Gallery, Deptford, London
April 2013. With Torch And Spear, constructing collage, curated by Ian Dawson
Team Shag, Ian Monroe, Chantal Joffe, Kirsten Glass, John Stezaker, Alexine Chanel, Marcus Harvey, Joseph Cornell, Eduardo Paolozzi, Michael Thebridge, Kristen Posehn, Jack Lavander, Jessica Taylor, Nicola Manuel, Danny Aldred, Stephen Cooper, Louisa Minkin, Claire Mitten, Mia Taylor, Ian Dawson, Mick Finch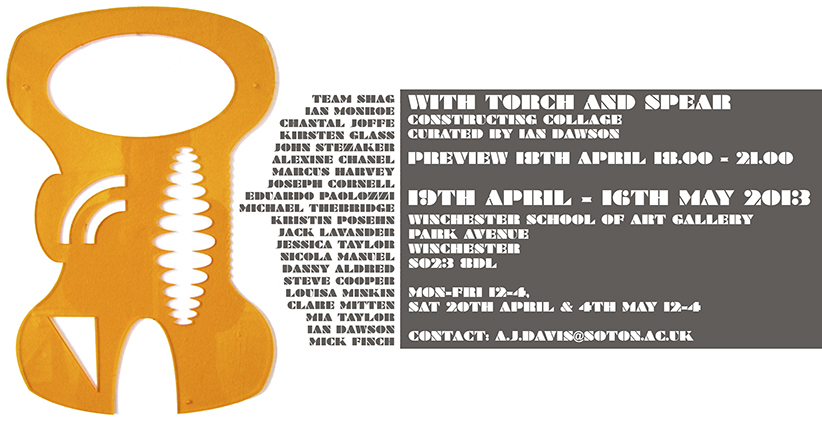 February – July 2013. tegn NEARFAR /draw NEARFAR Vestlandsutstillingen 2013 selected by Kjetil Berge
Thora Dolven Balke, Daniel Bell, Merete Christensen, Vania Cunha, Alexander Greenall, Anders Kjellesvik og Sigmund Skard, Fride Haram Klykken, Anne Knutsen, Lars Korff Lofthus, Marianne Løvvik, Joakim Lund, Louisa Minkin, Marius Moldvær, Jorunn Roaldseth, Bodil Rørvik-Larsen, Linda Skare, Kristian Skylstad, Roald Solberg, Annika Strøm, Mia Taylor, Janna Thole-Juul, Kaspar Vigestad, Simon Wells
Haugesund Kunstforening, Haugesund, Norway, Ferbruary 8th 2013, Sogn & Fjordane Kunstmeuseum, 9 March 2013, Stavanger kunstforening, 11 April 2013
Kunsthuset KABUSO, 11 May 2013
Kunstmuseet KUBE, 8 June 2013
April 2013. Major Flow Chartlate solo show at toomer labzda, New York